Android
Does Google ad use your microphone and listen to you from iPhone and Android?
Now a days you can see there are lots of iPhone and Android applications out there in play store and app store where you can download apps and games free and use it. This is really a great thing that we are able to use the great features free.
This is the approach most of the developers and the company uses to make app free and use Google ads in order earn from it. So, it's just an ad which is shown down bellow of the screen and few times full screen ads. There is nothing serious going on, right guys? Well, I think so, it is just an ad showing banner at bottom and sometimes showing full page ads. Just need to wait for a while and the ad goes away or we can make it away clicking close button. That's all. So what might be going in the background while happening these things? Any guesses? Well, there isn't, right????
Well, let me show you something I have found while integrating Google's interstitial ads in one of my iOS project called My Patro. Basically My Patro is an app for iOS user where user can check calendars, festivals, events, Nepali News both in Nepali and English. Along with it, you can use it directly from Today Extension (Notification center) which is the beauty of this app. Here is an image to let you know what an extension is all about in iOS.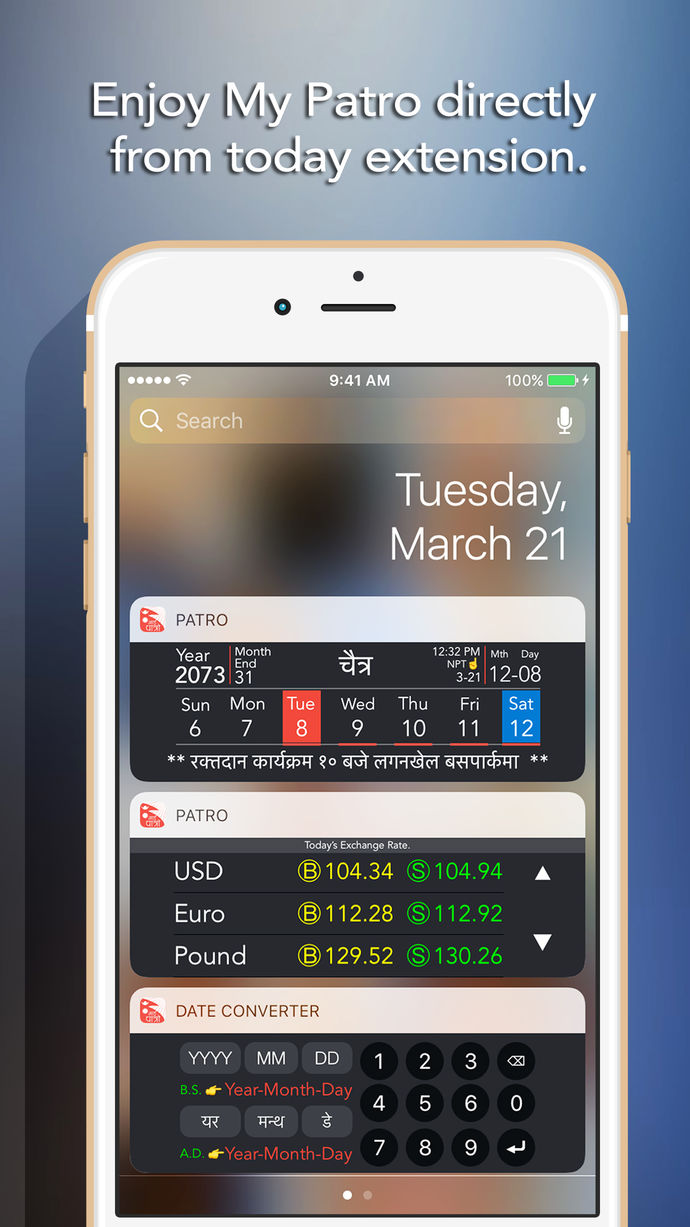 Anyway, back to ad thing. While adding Google's interstitial ad I discover one interesting thing which I think everyone should know.
First I integrated Google's ad and to check if I am receiving Interstitial ad or not, I used print method which will be displayed in xCode's console section. So, I was testing to see the ad. And after some time, I successfully, saw a message in my console "interstitialDidReceivedAd" which means yes, my code was working. Here is an image of console part.
However, while I got didReceiveAd message, simulator was kinda freezing. And later I knew it was because of a popup showing up with a message "'Patro.app' would like to access the microphone" Whooo. Spooky right? This actually doesn't happen in device. Let me show you image to make you more clear.
This popup shows every time when Interstitial ad is received at the start of the app. Later you won't see this popup until the app is closed and up again. But yes, you will see again and again if you keep on clicking Don't Allow button. Let me show you the image what actually happens when interstitialDidReceiveAd is executed.
Great right? It shows ads and people can earn but at the same time, it is risking people's life as well. I don't know in detail for how long Google might be listening to us. They might be using all the time or even may be just while showing ad. But my guess is if Google can access to our microphone when ad is shown, they don't want to stop listening to us.
So, how can we be protected from this? Well, first thing what you can do is, you can disable microphone access to these kind of specific apps which uses Google ad and uses microphone at the same time. How can you do that?
Goto settings
Search for the app which you want to deny microphone access.
Now you can see the option. Here is image.
Just turn off Microphone access and you are safe now. But if the app doesn't uses microphone and you haven't given microphone access, it is not a problem. And since My Patro app doesn't uses microphone at all, you dont need to worry about using it ?. But in case you are using app which needs microphone access and that particular app has used Google ads then OMG?? You know what I am talking about.
It is always good to know what's going on while loading Google ad so I posted this information here. I hope this will help you think better which app you should give microphone access and not to. All I wanted is to make sure everyone knows about it.
If you think, why would Google record your voice? Why do they need your voice conversation? Well, first of all, very good question. But let me show you a video which will make you clear about this. Please have a look a youtube video and you can be so so clear about it.
Thank you guys for ready for blog. I hope you guys share this blog as well so that at least people know about it. Stay safe.
✌️Peace✌️